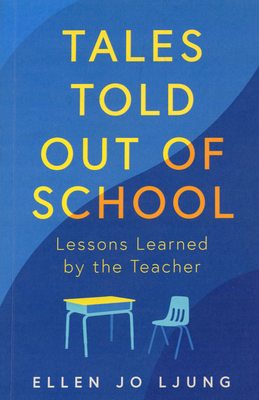 Tales Told Out of School
Published by Politics & Prose, a Washington, DC, independent book store
Tales Told Out of School describes a career teaching high school English with all the joys, challenges, details, and complexities. Like our best teachers, Ljung is reflective and always learning, and this warm collection of vignettes works equally well as an inspiring memoir and as an intellectual case study. Highly recommended to current, past, and future teachers
- Michael Lach, Assistant Superintendent for Curriculum, Instruction, and Assessment, Township High School District 113, former Special Assistant for STEM Education, U. S. Department of Education
Teaching is hard. Anyone who has spent any time in the classroom knows what it is like. Those first years are particularly challenging, but they can lead to an emancipatory journey. Ellen Ljung captures this experience in a way that will resonate with anyone that has ever taught, but also illuminates a path for those that are just starting their own career. From the early days of navigating the bureaucracy of schools and the dated expectations of its leaders to a more established position of understanding, Ljung details her own development, striving to serve her students, and herself, better. There is much to learn here for all. "Tales Told Out of School" raises important questions for teachers, administrators and those who care for them about the nature of teaching, the challenges of work in schools, particularly as a woman, and what it takes to truly master an incredibly demanding profession. Ljung's wit, humility and humor bring to life the experience of the classroom at an all too important moment in our history.
- Bob Regan, Director of Education at Gates Ventures
Ellen Ljung's memoir of her life as an English teacher gives voice to the joys and challenges of being a teacher in the United States. Her voice is blazingly honest as she narrates her journey through educational politics and changing social scenes, working to maintain the ballast of remarkable relationships with students, colleagues, and the families she served. Her book serves as a road map on how to keep one's eyes on the professional prize of student engagement and achievement.
- Audris Griffith, Retired Principal, Deerfield High School
Ljung's memoir is a storytelling tour de force! Varied, reflective, and interesting, these stories capture the complicated realities teachers face throughout the lifecycle of their careers. The lessons this work teaches are woven together beautifully. I wish I would have had this book early in my career. I highly recommend it.
Don Fraynd, PhD, CEO Transeo, Former Director of Chicago Public Schools Turnaround Office, Award-winning Principal of Jones High School